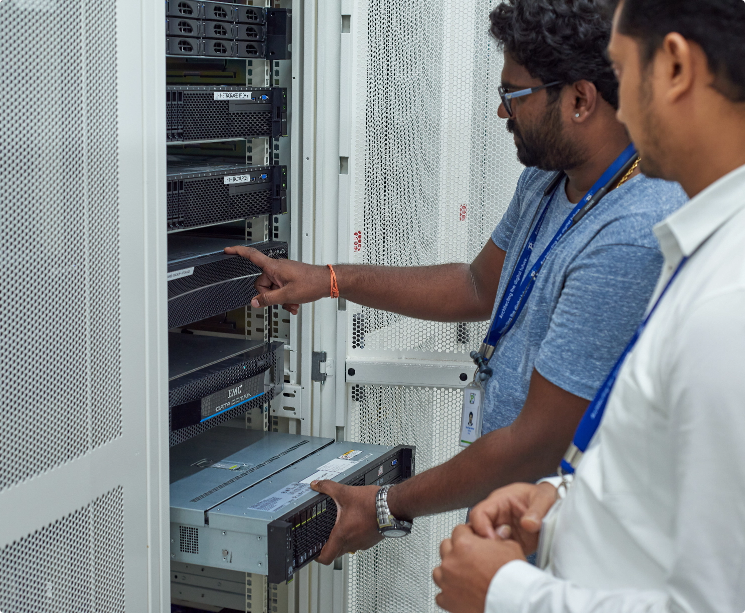 Pi Datacenters® is a story envisioned by technocrats, led by the Founder & CEO, Mr. Kalyan Muppaneni. The vision was to redefine customer experience while fueling their business growth. This was backed by the mission to introduce Hyperscale data centers & indigenous enterprise cloud to the Indian industry with intelligent and self-healing infrastructure.
With a cumulative capacity of 500,000 sq. ft. built-up area and 60MW of power, including a dedicated in-house substation, Pi is by far India's first Greenfield and World's 4th largest Uptime institute Tier lV Certified Datacenter and Enterprise Cloud (Harbour1®) provider, headquartered at Hyderabad (Telangana, India). Pi operates out of its data centers and cloud point of presence across Vijayawada, Kochi, Noida, and Mumbai.
The objective is to differentiate high-quality and high-performance data center hosting while being TCO optimal in supporting businesses for enterprises operating in India. With an extensive review and audit lifecycle, Pi Datacenters® is MeitY empaneled and is on GEM. Pi got its empanelment and achieved full accreditation by MeitY for all three cloud models – Public Cloud, Government Virtual Private Cloud, and Government Community Cloud.
Our focus has always been on delivering futuristic and custom data center and cloud solutions riding a disruptive technology approach. Being India's leading data center and cloud company, we are trusted highly for being the flag bearer of data localization and data sovereignty coupled with world-class service quality delivered out of its 100% automated SCADA-enabled data center facilities & SDDC ecosystem. Pi is certified for ISO27001, ISO9000, ISO140001, ISO20000, ISO 22301, STQC, PCI-DSS, SOC2 Type II and HIPPA. These certifications have fortified our strong operational process to meet the global industry's stringent privacy security quality and service compliance parameters.
We are certified for SAP HANA operations, Infrastructure & Cloud Operations, and Hosting Operations. This enables smooth digital transformation across enterprises alongside the secure operation of business-critical processes. Pi brings the best of both worlds together in terms of global standard and cost linearity. It boasts of its hyperscale facilities, offering various custom-made colocation and cloud services for enterprises across all scales and industries.
Pi has been featured on Gartner's Market Guide as one of the top data centers in India for the last three consecutive years in a row and as one of the top Public Cloud Managed and Professional Services Providers at Asia/Pacific level for the year 2021. We are also recognized as India's Best Multi-Tenant Data Center by Datacenter Dynamics. These are a few of many other laurels and accolades earned on domestic and global platforms.
Being synonymized with work culture activism, Pi fosters employees to open up to new challenges and learnings as they take up the trajectory of their work life. Being respected and valued adds to the zeal that makes Pi a Great Place To Work. Great Place has recognized Pi to Work India among the Top 50 – India's Best Workplaces™ for Women 2021 and Top 50 India's Great Midsize workplace of 2021.